UGALDEGUREN HALL AT THE HOTEL SEMINARIO BILBAO
31 m2
Projector 
Screen
Lapto
Loudspeakers and interpretation cabins
UGALDEGUREN HALL AT
THE HOTEL SEMINARIO BILBAO
Perfect for all kinds of events

31 m2

Up to 15 people
We have the perfect spot for your event
The Ugaldeguren Hall at the Hotel Seminario Bilbao is the perfect place to plan business meetings and gatherings in the Txorierri Valley. It is filled with natural light coming from the wonderful environment in which it is located, a valley full of color contrasts and landscapes.
You can admire the spectacular views from the large windows in the Ugaldeguren Hall, where the beautiful natural light comes in on sunny days to welcome us.
With its area of 31 m2, it is the perfect place for larger and more important events and conferences. It has the best and latest technologies: projector, screen, laptop, loudspeakers and interpretation cabins, so every detail is thought of during the most important days and any event can be executed.
Its main characteristic is flexibility as it can adapt to any layout due to its panel system.
We offer a Coffee Break, a Menu of the day and a food service, all entirely custom-made.
Total area: 31 m2 
Exact dimensions: 6m weight x 5m long
Height: 3m2
Additional services: Coffee Break, Menu of the day, food service for companies with the possibility to set up an arranged menu.
Water, folder and pen (courtesy of the hotel)
See our Coffee Break rates.
U:
10 people
Imperial:

12 people
School:
12 people
Cocktail:

15 people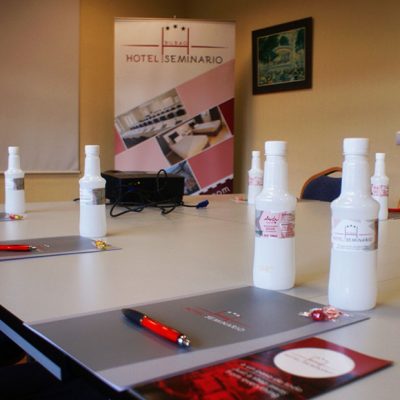 *Due to safe distancing measures, these capacities may vary.
Contact us and tell us about your needs.