OUR LOCATION IS PERFECT TO VISIT
THE BASQUE COUNTRY'S MOST EMBLEMATIC SPOTS
Our hotel is located in an extraordinary natural setting, 2 km away from the end of the sixth stage of the Northern Way, Gernika-Lezama, of the Way of Saint James, very close to San Juan de Gaztelugatxe and to the URDAIBAI BIRD CENTER observatory in Gernika.
HOTEL NEAR SAN JUAN DE GAZTELUGATXE
Very close to the hotel, you will find one of the Basque Coast's most visited enclaves. This small island, connected to the coast by a stone bridge, is the most valued enclave by visitors from the entire world. This is no surprise as it is one of the most impressive and unforgettable landscapes you could see. Here's a tip: once you arrive at the hermitage, don't forget to ring the bell three times for good luck and to chase away evil spirits!
HOTEL NEAR THE URDAIBAI
BIRD CENTER
Just 30 minutes away from our hotel, you will find the Urdaibai reserve. There, you will discover the Urdaibai Bird Center, a marsh observatory with unique views. Besides being an observatory, it is also a big museum and a bird research center. You can admire all the bird species that come to the reserve. 
Bermeo is one of the most important places on the Bizkaia coast and one of the largest and most populated towns of the Busturialdea region. It became Bizkaia's second largest fishing port thanks to its fishing and canning activities. 
Sopela is the perfect place to discover Bizkaia and Euskal Herria. It offers visitors idyllic landscapes and all the comfort they need. 

By the Cantabrian Sea, in the North, Sopelana has spectacular cliffs and beaches and is the perfect tourist destination for surfers.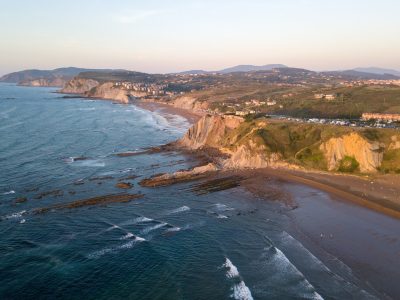 HOTEL NEAR GERNIKA - LEZAMA
Gernika was and has been from time immemorial a place that is rich in symbolism and importance for every Basque as a symbol of democracy and historic rights. This is reflected in the international recognition given to Gernika-Lumo through the UNESCO "Cities for Peace prize" for Europe.