HOTEL SEMINARIO BILBAO, A BUILDING WITH MAJESTIC ARCHITECTURE IN A UNIQUE SPOT
About the Hotel Seminario Bilbao - Spectacular Building
The magic of an old seminary surrounded by green plains makes this hotel an extraordinary place, where the Basque Country's light merges with a green landscape full of history.

Only 5 minutes away from the Bilbao airport, the Hotel Seminario Bilbao is located in a monumental and protected reform style building that stands out due to its grandeur and was classified as a building of architectural interest.

Made up of two parallel building compounds, it was designed by Basque architect Diego Basterra.
The Hotel Seminario Bilbao is perfectly located in the Txorierri Valley, in the beautiful and incredible Uribe region, next to the Bilbao airport.

Its surroundings are ideal to organize conferences as it is close to the Zamudio Technology Park and only a few kilometers away from the wonderful Basque Coast.
SEMINARIO BILBAO, A BUILDING WITH HISTORY:
The Seminario building was born as a project to house a psychiatric hospital and the construction started in 1931. It was interrupted by the start of the Civil War, and started again in 1950 .

In 1992, the Seminario building began its new life. As a result of an ambitious renovation plan, it became a modern and functional architectural compound.
CURIOUS FACTS ABOUT OUR HISTORY
The Hotel Seminario of Derio was comprised of three separate buildings, and after 20 years of being operational, it was recognized for its high education and academic level, as it was home to a highly intellectual diocesan education center.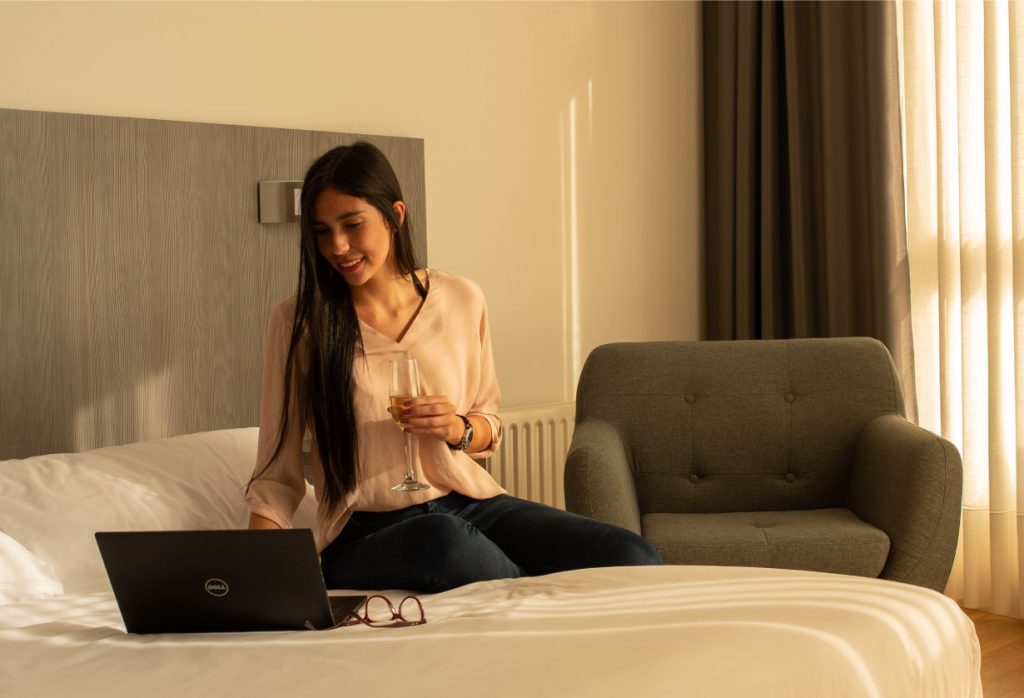 In 2010, it became what we now know as the  
 Hotel Seminario Bilbao
,but only in 2016 did a large remodeling take place in the entire hotel to completely refurbish the old rooms, which now offer a simple yet modern and practical presentation that largely improved our guests' comfort and well-being.
The Hotel Seminario Bilbao  takes up the fifth floor of the right wing of the Seminario of Derio building. It is a quiet and very bright floor, surrounded by the various companies that occupy the rest of the building.
Surrounded by the Concordia Forest, this natural enclave is very close to Bizkaia's major tourist attractions.

FREE PARKING
IN THE HOTEL SEMINARIO
The Hotel Seminario Bilbao has the largest and closest free parking lot to the Bilbao airport. We have a large free parking lot of 500 spots with no prior reservation required.
If you want to travel from the Bilbao airport, you can stay at our Hotel Seminario and leave your car parked in our parking lot for free. We will take you to the airport!
In addition to usual tourism, its considerable size makes it perfect to park buses and large vehicles transporting sport materials or equipment.
SEMINARIO BILBAO, A BUILDING WITH HISTORY: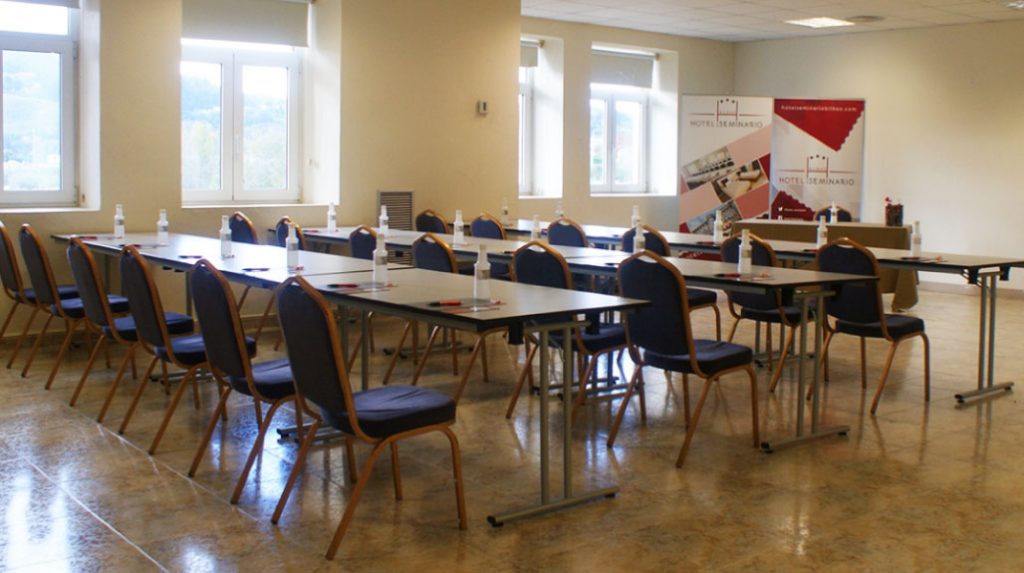 The Hotel Seminario has everything you need for professional and business tourism, also known as MICE.
Find out about our halls filled with natural light, with adapted access facilities for your family reunions or business meetings, and a special environment for later leisure.
The entire Hotel Seminario Bilbao team has great experience.
Tell us about your idea and our staff will advise you.